Last updated May 2023 
​ These terms of service (these "Terms") are incorporated by reference into each order for services submitted by a customer (the "Customer") to Vantaca, LLC ("Vantaca") whether such order is set forth in a purchase order that is countersigned by Vantaca or an online order processed through Vantaca's website (as applicable, an "Order").  
 
1. Definitions. The following capitalized terms are used as defined:  
           1.1. "Activation Date" means, with respect to Services covered by an Order, the first to occur of (i) the activation date indicated in the Order, or (ii) the date on which the Services are provisioned by Vantaca to the Customer.  
           1.2. "Agreement" means, collectively, these Terms and each Order and any other documents incorporated into such Order by reference.  
           1.3. "Confidential Information" means all information, material and data of the Discloser (including information, material and data that constitutes a trade secret under applicable law) and: (a) is labeled or designated in writing as confidential or proprietary, (b) the Recipient is advised is proprietary or confidential, or (c) in view of the nature of such information and/or the circumstances of its disclosure, the Recipient knows or reasonably should know is confidential or proprietary. Confidential Information includes, without limitation, Customer Data, the terms and conditions of this Agreement and all non-public information relating to the Discloser's business plans, marketing plans, customers, technology, employee and organizational information, product designs, product plans and financial information.  
           1.4. "Customer Data" is used as defined in the Service Description.  
           1.5. "Intellectual Property Rights" shall mean all copyrights, trademarks, service marks, trade secrets, patents, moral rights, contract rights, and other proprietary rights as applicable under the laws of any applicable                                 jurisdiction.  
           1.6. "Services" shall mean the services that Vantaca is obligated to provide as indicated in an applicable Order.  
           1.7. "Software" shall mean any software that Vantaca treats as proprietary and that Vantaca utilizes in any Software-as-a-Service application for use in homeowner association management, including any updates, customizations, additions, extensions or enhancements thereto, provided under this Agreement and accompanying documentation and all ideas, concepts, methods and techniques embodied therein.   
           1.8. "System" is used as defined in the Service Description.  
 
2. Intellectual Property Rights.
           2.1. System, Software and Services. Vantaca retains all right, title and interest in and to its Services, its System and the Software. Apart from its limited right and license to utilize the System as part of the Services, the Customer is not acquiring any right or license to the System or the Software as a result of this Agreement. The Customer acknowledges that Vantaca's Intellectual Property Rights in the Software include both a copyright interest as well as a trade secret interest in the secret features, functions, operations, methodologies,  capacities and method of action of the Software, all of which are maintained in secrecy and confidentiality by  Vantaca.  
            2.2. Network Security. Vantaca has implemented and will continue to implement commercially reasonable security measures to prevent unauthorized access to computer hardware and other equipment and/or  software owned and used by Vantaca or its third-party service providers to deliver the Services. The System  may permit Authorized Users to disable certain security measures. Vantaca strongly encourages Customer to ensure that its Authorized Users keep all security measures fully engaged. Customer shall be solely responsible for the security of Customer's computer and networking systems used to access the Services. Customer shall be solely responsible for all acts and omissions of its Authorized Users. Customer must use reasonable efforts to prevent unauthorized access to the System and notify Vantaca promptly of any breach of security affecting the System.  
           2.3. Restrictions. Customer may not, and may not allow any third party to: (i) attempt to disassemble, reverse engineer, reconstruct, identify or discover any source code, underlying ideas, underlying user interface techniques or algorithms of the Software by any means or disclose any of the foregoing, (ii) use the Software or any Vantaca Confidential Information in any way to create any software that performs functions that are the same as, or similar to, those performed by the Software, (iii) provide, rent, lease, lend, or use the Software for timesharing, subscription, or service bureau purposes; (iv) sublicense, transfer or assign any of the rights or licenses granted under this Agreement. Customer shall not: (x) use the Software for storage, possession, or transmission of any information, the possession, creation or transmission of which violates any state, local or federal law; or (y)transmit Customer content over, or use Customer content in connection with, the Software, in any manner that infringes upon or misappropriates the Intellectual Property Rights of any third party.  
 
3. Duration and Termination.
           3.1. Duration.  This Agreement begins on the date of the first Order and continues until the latter of (a) the termination date indicated in the first Order, (b) the first anniversary of the Activation Date (if there is no termination date indicated in the first order), or (c) until terminated in accordance with its terms. This Agreement will automatically renew for successive 12-month renewal periods (each, a "Renewal Period") unless either party gives written notice of non-renewal at least ninety (90) days prior to the initial termination date or  the expiration of the then-current Renewal Period.   
           3.2. Voluntary Termination. Either party may terminate this Agreement by giving written notice to the other  party that it has breached a material term of this Agreement or any other agreement between the parties if  such breach remains uncured ninety (90) days after the date of such notice (with such notice identifying and                    describing the alleged material breach).  
           3.3. Termination for Insolvency. Either party may, at its option and without notice, terminate this Agreement, effective immediately, should the other party: (1) admit in writing its inability to pay its debts generally as they become due; (2) make a general assignment for the benefit of creditors; (3) institute proceedings to be adjudicated in a voluntary bankruptcy, or consent to the filing of a petition of bankruptcy against it; (4) be adjudicated by a court of competent jurisdiction as being bankrupt or insolvent; (5) seek reorganization under any bankruptcy act, or consent to the filing of a petition seeking such reorganization; or (6) have a decree entered against it by a court of competent jurisdiction appointing a receiver, liquidator, trustee, or assignee in bankruptcy or in insolvency covering all or substantially all of such party's property or providing for the liquidation of such party's property or business affairs.  
           3.4. Effects of Termination. Upon any termination of this Agreement (a) Customer must pay Vantaca any amounts then due, (b) Customer must cease to access and use the Services, and (c) the parties' obligations under the Agreement will cease except for those obligations that are expressly intended to survive such termination as provided in Section 8.  
 
4. Fees and Payment.
           4.1. Fees. Customer will pay Vantaca the fees indicated in each applicable Order. Unless otherwise agreed in writing, Customer must provide ACH account details and authorize Vantaca to withdraw fees invoiced at the beginning of each month. Vantaca may change the applicable fees no more than once each year after the first anniversary of the Activation Date. Amounts not paid when due will bear interest at the rate of 12% per annum until paid in full. In the event of a failed or returned ACH or check, Customer agrees to pay a fee per occurrence of  $35, or such other amount as may be permitted by applicable law. Customer will reimburse Vantaca for its costs and expenses of collection including reasonable attorneys' fees if Vantaca retains an attorney to collect amounts due.  
           4.2. Travel Expenses. Customer shall reimburse Vantaca for actual business-related Travel Expenses (including, as applicable, food, lodging and other incidental expenses incurred by Vantaca) for Services that require travel; provided that Vantaca obtains Customer's prior written approval to incur such expenses.  
 
5. Liability and Risk Management.
           5.1. Insurance. Each of Customer and Vantaca must maintain commercially reasonable property and liability insurance in respect of their actions and obligations under this Agreement.  
           5.2. Limited Warranty. Vantaca will provide the Services in a proficient and professional manner in accordance with this Agreement. EXCEPT FOR THE FOREGOING LIMITED WARRANTY VANTACA IS PROVIDING THE SERVICES "AS IS." VANTACA DISCLAIMS ALL WARRANTIES, EXPRESS OR IMPLIED, INCLUDING ANY                                            WARRANTY OF MERCHANTABILITY, FITNESS FOR A PARTICULAR PURPOSE AND NON-INFRINGEMENT. CUSTOMER ACKNOWLEDGES THAT THE SYSTEM AND THE SERVICES ARE NOT ERROR-FREE AND CANNOT GUARANTEE THE CONTINUOUS SECURITY AND INTEGRITY OF DATA.  
           5.3. Limitation on Damages. IN NO EVENT WILL EITHER PARTY OR ITS AFFILIATES OR ANY OF THEIR OFFICERS, DIRECTORS, EMPLOYEES, SHAREHOLDERS, AGENTS OR REPRESENTATIVES BE LIABLE TO THE OTHER PARTY OR ANY OTHER PERSON FOR ANY INDIRECT, SPECIAL, INCIDENTAL, EXEMPLARY OR                                        CONSEQUENTIAL DAMAGES OR LOSS OF GOODWILL IN ANY WAY RELATING TO THIS AGREEMENT OR RESULTING FROM THE USE OF OR INABILITY TO USE ANY DELIVERABLE OR THE PERFORMANCE OR NON-                     PERFORMANCE OF ANY SERVICES, EVEN IF SUCH PARTY HAS BEEN NOTIFIED IN ADVANCE OF THE POSSIBILITY OR LIKELIHOOD OF SUCH DAMAGES OCCURRING, AND WHETHER SUCH LIABILITY IS BASED ON CONTRACT, TORT, NEGLIGENCE, STRICT LIABILITY, PRODUCTS LIABILITY OR OTHER THEORY OF LAW OR EQUITY.  
           5.4. Maximum Liability. IN NO EVENT WILL VANTACA'S AGGREGATE LIABILITY TO CUSTOMER UNDER THIS AGREEMENT, WHETHER FOR BREACH OF CONTRACT, TORT OR ANY OTHER LEGAL THEORY, EXCEED THE                       FEES RECEIVED BY VANTACA UNDER THIS AGREEMENT DURING THE PERIOD OF TWELVE (12) MONTHS                             IMMEDIATELY PRECEDING THE EVENTS GIVING RISE TO SUCH LIABILITY.  
 
6. Confidential Information.
           6.1. Prior Agreements Superseded. This Section expressly supersedes any prior confidentiality agreement or non-disclosure agreement between the Parties unless otherwise expressly agreed in writing.   
           6.2. Confidential Information. Each Party (as applicable, the "Recipient") may not use, other than in connection with the provision or receipt of the Services, or disclose to anyone, other than officers, employees or representatives of the Recipient with a need to know for purposes of this Agreement and who are subject to confidentiality obligations consistent with the terms of this Agreement ("Representatives"), any Confidential Information disclosed to the Recipient by the other Party (as applicable, the "Discloser"). The Recipient shall safeguard disclosure of such Confidential Information to the same extent as with the Recipient's own Confidential Information, but shall at least use reasonable care. Upon termination of expiration of this Agreement, or earlier upon request of the Discloser, the Recipient shall promptly return to the Discloser or destroy the Discloser's Confidential Information in its possession or under its control.  
          6.3. Exclusions. The confidentiality obligations of this Section shall not apply to any such information that: (a) is or becomes publicly known without any fault of or participation by the Recipient or its Representatives, (b) was in Recipient's possession prior to the time it was received from Discloser or came into Recipient's possession thereafter, in each case lawfully obtained from a source other than Discloser or its Representatives and not subject to any obligation of confidentiality or restriction on use, or (c) is independently developed by the                                Recipient without reference to the Discloser's Confidential Information. It shall not be a violation of this Section for Recipient to disclose any Confidential Information to the extent it is required to be disclosed by judicial,                         arbitral or governmental order or process or operation of law, in which event the Recipient shall, unless prohibited by law, notify the Discloser of the requirement of disclosure before making such disclosure and shall comply with any protective order or other limitation on disclosure obtained by the Discloser.  
           6.4. Equitable Relief. Any use or disclosure of the Discloser's Confidential Information in a manner inconsistent with the provisions of this Agreement may cause the Discloser irreparable damage for which remedies other than injunctive relief may be inadequate, and both Parties agree that the Discloser may request injunctive or                    other equitable relief seeking to restrain such use or disclosure.  
           6.5. Duration. The provisions of this Section will survive the termination or expiration of this Agreement for any reason for a period of five years, except that with respect to any Confidential Information that constitutes a trade secret under applicable laws, with respect to which these provisions will survive for so long as such information retains its status as a trade secret under such law.  
 
7. Indemnification. 
           7.1. By Vantaca. Vantaca will indemnify, defend, and hold harmless Customer and its affiliates and their respective officers, directors, employees, agents and other representatives (collectively, the "Indemnitees") against all liabilities, losses, damages, claims, costs and expenses, interest, awards, judgments and penalties, including reasonable attorneys' and consultants' fees or other expenses (collectively "Losses") arising from any claims, actions, or proceedings, arising out of any claim that (a) the Services infringe, violate or misappropriate any third party's Intellectual Property Rights (an "IP Claim"), or (b) a third party has suffered injury to person or damage to tangible personal property caused by the negligence or willful misconduct of Vantaca or any of its officers, directors, employees, or agents.  
           7.2. Remedies for IP Claims. If Vantaca determines that its provision of the Services is the subject of an IP Claim, Vantaca may, in its sole discretion and at its sole cost and expense, elect to (x) modify the Services to eliminate the source of the IP Claim, (y) cease to provide the applicable Services and refund any prepaid Fees in respect of the applicable Services, or (z) procure for Customer the right to continue the use of the infringing component of the Services or downloaded Software. Vantaca's execution and completion of the foregoing remedies will be Vantaca's sole liability, and Customer's exclusive remedy, for any such IP Claim.  
           7.3. Exceptions. Vantaca will have no indemnity obligation for any IP Claim alleged to result from: (a) any combination, operation, or use of the Vantaca Software or Services by Customer with any programs or equipment not supplied by Vantaca or not specified in writing for such purpose (collectively, the "Combined Items") if such infringement would have been avoided absent the combination, operation, or use of such Combined Items, (b) any unauthorized modification of the Vantaca Software by Client, or (c) Client's failure to implement any replacement or modification of the Vantaca Software provided by Vantaca.  
           7.4. By Customer. Customer will indemnify, defend, and hold harmless Vantaca, and its affiliates, officers, directors, employees, agents, and other representatives against all Losses arising from any claims, actions or proceedings, arising out of any claims that the combination by Customer of any Customer software, Customer Data, content, other data, marks or other materials provided by Customer or utilized by Customer with the Services infringes or violates any third party's Intellectual Property Rights.  
           7.5. Indemnification Procedure. If any Party is entitled to indemnification under this Article 7, the Party seeking such indemnification (the "Indemnified Party") must (i) promptly notify the Party obligated to provide indemnification (the "Indemnitor") of the existence of the Claim (together with copies of any applicable documents or other relevant information); provided that any delay or failure to so notify the Indemnitor shall not relieve the Indemnitor from its responsibilities hereunder, except to the extent the Indemnitor is actually prejudiced by any such failure or delay; (ii) provide Indemnitor with reasonable assistance and cooperation in connection with the defense of the Claim, in each case at the Indemnitor's sole expense, and (iii) allow Indemnitor to control the Claim and any related settlement negotiations; provided that the Indemnified Party shall have the right to participate in such Claim or settlement negotiations with counsel at its selection and at its sole expense. The Indemnitor may not consent to entry of any judgment or enter into any settlement that imposes liability or obligations on the Indemnified Party or diminishes the Indemnified Party's rights without first obtaining the Indemnified Party's express written consent.  
​ 
 8. Survival. All payment obligations accrued prior to the date of termination and all terms of this Agreement, which   by their nature are intended to survive termination of this Agreement, shall survive the termination of this Agreement 
 
9. Force Majeure. Each party shall be excused from performing hereunder to the extent that it is prevented from performing as a result of any act or event that occurs and is beyond its reasonable control, including, without limitation, acts of God, war, weather, utility, malware, spyware, viruses, or telecommunications outages, unrest or riot, strikes, or any action of a governmental entity (as applicable, a "Force Majeure Event") provided that the party experiencing the Force Majeure Event provides the other with prompt written notice thereof and uses reasonable efforts to remedy effects thereof.  
 
10. Miscellaneous.
           10.1 Compliance with Laws. Each party must comply with all applicable laws in connection with its acts and obligations under this Agreement.  
           10.2. Assignment. This Agreement will inure to the benefit of the parties and their respective successors and assigns, provided, however, that Vantaca may assign this Agreement to any entity that purchases all or substantially all of its assets.  
           10.3. Governing Law. This Agreement will be construed in accordance with the laws of the State of North Carolina excluding its principles of conflict of laws. If any provision of this Agreement is prohibited by law or held to be unenforceable, the remaining provisions hereof shall not be affected, and this Agreement shall continue in full force and effect as if such unenforceable provision had never constituted a part hereof, and the              unenforceable provision shall be automatically amended so as to best accomplish the objectives of such unenforceable provision within the limits of applicable law.  
           10.4. Counterparts. This Agreement may be executed in counterparts, each of which shall be deemed an original but all of which together shall constitute the same instrument. Any waiver of a provision of this Agreement must be in writing and signed by the party to be charged. A valid waiver hereunder shall not be interpreted to be a waiver of that obligation in the future or any other obligation under this Agreement. This Agreement constitutes the entire agreement between the parties related to the subject matter hereof and supersedes any prior or contemporaneous agreement between the parties relating to the subject matter hereof.  
           10.5. Publicity. Vantaca may list Customer as a customer and use Customer's logo on Vantaca's website, on publicly available customer lists, and in media releases.  
           10.6. Independent Contractors. Each of Vantaca and Customer is an independent contractor of the other and neither party may bind the other to any contract or other obligation.  
           10.7. Modifications. Vantaca may modify these Terms from time to time and any such modification will be effective when posted to Vantaca's website. Customer's continued use of the Software and the Services will indicate acceptance of the modifications. 
           10.8. Notices. Any notice required or permitted in connection with this Agreement must be (a) delivered to Vantaca in writing by overnight delivery or U.S. certified mail, return receipt requested and (b) delivered to the Customer via the Customer email address maintained by the Customer in Vantaca's customer relationship management system. 
 
Service Description: Vantaca Property Management System 
  
Vantaca will provide the following Services to Customer through the Vantaca Property Management System as indicated in an applicable Order.  
  
1. Services.
           a. Overview. The Services will permit Customer's authorized users (each, an "Authorized User") to access and use the Vantaca Property Management System (the "System") in order to collect, retain, utilize and process  information relating to properties (each, a "Property") that are managed by Customer.  
           b. Authorized Users. The Customer is responsible for administering the login names and passwords for its Authorized Users. The Customer is responsible for any loss of integrity resulting from lost or misplaced login names and passwords for its Authorized Users. The Order will contain per-user pricing based on the number of               Primary Users, Secondary Users and Other Users. Vantaca will calculate the actual number of  Authorized Users within each subordinate category and will invoice the Customer as applicable each month based on such  count and the pricing in the Order.   
           c. User Categories. "Primary Users" are those Authorized Users capable of performing all of the applicable functions in the System. "Secondary Users" are those Authorized Users that are capable of performing only a limited number of system-maintained roles in the System. "Other Users" are any Authorized Users that are not Primary Users and Secondary Users.  
           d. The System and the Portal. The System enables Primary Users to perform a variety of functions relating to  homeowners and other residents (each, a "Resident") in an applicable Property. In addition, the System also creates an online portal (each, a "Portal") that provides functions appropriate for Residents in a particular Property to interact with the management of the Property and, where applicable, with the community association or other governing board (as applicable, the "Board"). Primary Users may, through the System, assign login names and passwords to users of the Portal, who must be either Residents of the applicable Property or members of the Board of the applicable Property.   
           e. Activation. Vantaca will make the System and the Portals available in an inactive environment on a date agreed to by the parties, but in no event later than sixty (60) days prior to the Activation Date. Vantaca may delay the Activation Date, in Vantaca's sole discretion, based on Customer's preparedness and data retrieval status.  

2. Customer Information.
            a. Customer Data. The Services will permit Authorized Users to input, upload, download, store, modify, analyze, update and maintain data concerning the Customer's Properties, the Residents and other related data. All data input to the System by an Authorized User is collectively referred to as "Customer Data". As between Vantaca and the Customer, the Customer will be the sole and exclusive owner of the Customer Data.  
            b. Responsibility for Customer Data. The Customer will be solely responsible for the accuracy of all Customer Data and for the creation, publication, maintenance and compliance with any privacy policies or legal requirements pertaining to the collection, storage, maintenance, use and disclosure of all Customer Data.  
            c. Anonymized Data. Vantaca may create anonymized data that is derived from Customer Data but that contains no personally identifiable information of any Resident. As between Vantaca and the Customer, Vantaca will be the sole and exclusive owner of all such anonymized data.  
            d. Breach Notification. If Vantaca believes that the security or integrity of any Customer Data stored in the System may have been compromised, Vantaca will promptly notify the Customer and investigate the cause or source of such loss of security or integrity. Vantaca will promptly remedy or repair the System as needed and will promptly notify the Customer of the outcome of its investigation into the cause or source of such loss or security or integrity. The Customer will be solely responsible for notifying any affected Residents or other persons as required by applicable law or applicable privacy policies.  

3. System Maintenance and Support.
          a. Help Desk. Vantaca will maintain the System in a secure computing environment on a 24/7/365 basis. Vantaca will maintain a help desk (the "Help Desk") that will be accessible by Customer by telephone and email during normal business hours. The Help Desk will correct any errors in the System and will follow up on any trouble tickets the Customer may submit. The Help Desk will aim to resolve any errors in the System within the following times: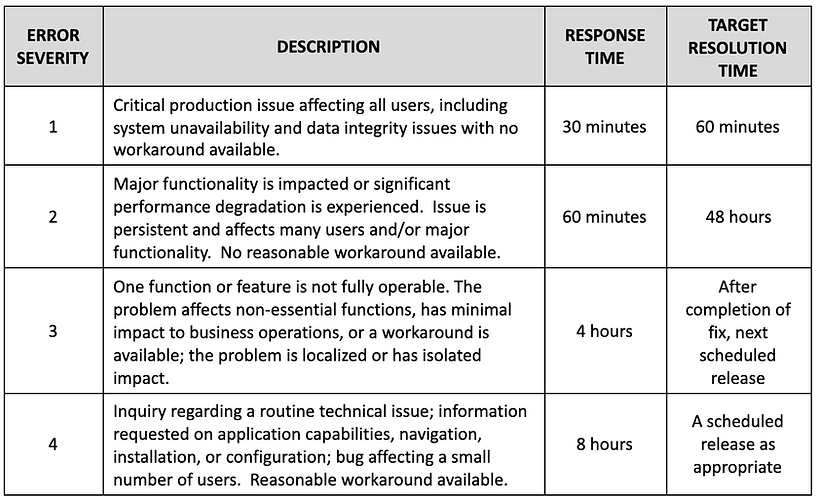 b. Internal Help Desk.  The Customer will maintain an internal help desk to provide Level 1 support to its Authorized Users. The Customer will limit the number of Authorized Users who are permitted to contact the Help Desk to a limited number of identified personnel that are not more than one for every fifteen Authorized Users.  
          c. Updates.  Vantaca may modify and update the System from time to time to modify the applicable software, update server operating systems and improve operations.  
          d. Availability.    Vantaca will cause the Services to be Available at least 99.00% of the time, measured on a monthly  basis and excluding downtime from Excluded Causes as follows:  
                        i. "Available" is defined as any time that the System is capable of performing substantially all of the major features and functions indicated in the System's documentation, as measured and tracked by Vantaca's availability reporting software.  
                        ii. "Excluded Causes" means any time at which the System is not Available as a result of any of the following: (a) any malicious or hostile attack on the Customer's network resources or Vantaca's network resources by any third party, (b) any Force Majeure Event, (c) any error of an Authorized User or other party who was given  access to the System by Customer, (d) Customer loses Internet connectivity, or (e) any error in software not provided by Vantaca. 
Payment Services.

            a. Payment Processing. Vantaca's payment processing services (the "Payment Processing Services") are available to Customer through the Vantaca System through functionality provided by third parties (collectively, "Payment Processors") and are subject to terms and conditions imposed by those third parties (the "Third Party Conditions"). By agreeing to the Order and using the Payment Processing Services, Customer agrees that its ability to use the Payment Processing Services are subject to such Third Party Conditions and agrees that Vantaca may take any action or condition any functionality on any requirement imposed by such Third Party Conditions. Without limiting the generality of the foregoing, Customer agrees to provide Vantaca accurate and complete information about Customer and its business, and Customer authorizes Vantaca to share such information and any transaction information provided by Customer to such third party as required by the Third Party Conditions.
 b. Cardholder Data. Customer is solely responsible for any liability related to its acts, omissions or other handling of cardholder data. Customer agrees to comply, and to cause any third-party having access to cardholder data to comply, with PCI DSS and applicable law with respect to such data.
c. Disclaimer of Liability; Indemnification. Customer acknowledges that Vantaca does not control the third party software and systems that provide the Payment Processing Services. WITHOUT LIMITING ANY OTHER DISCLAIMERS OR LIABILITY LIMITATIONS CONTAINED IN THIS AGREEMENT, CUSTOMER AGREES THAT UNDER NO CIRCUMSTANCES WILL VANTACA HAVE ANY LIABILITY TO CUSTOMER WHATSOEVER FOR ANY SERVICES OUTAGES, ERRORS, OMISSIONS, IRREGULARITIES, DISPUTES, CLAIMS, OR PROBLEMS OF ANY KIND OR NATURE THAT CUSTOMER MAY EXPERIENCE WITH THE PAYMENT PROCESSING SERVICES. VANTACA DOES NOT MAKE ANY WARRANTIES WHATSOEVER ABOUT THE THIRD PARTY PROVIDERS OF THE PAYMENT PROCESSING SERVICES. Consequently, any promises in the Order to provide services or maintain service levels will not extend to the Payment Processing Services. Customer agrees to indemnify Vantaca and its affiliates, officers, directors, employees, agents, and other representatives against all Losses arising from any claims, actions or proceedings arising out of, related to, or alleging Customer's failure to comply with the Third Party Conditions of which Vantaca has given Customer notice, whether through online prompts or directions or otherwise.
d. Account Migration. Customer agrees that if Vantaca ceases to do business with a Payment Processor for any reason, it will cooperate with Vantaca in the transition of its merchant processing account to another Payment Processor and Customer authorizes Vantaca to take the steps necessary to facilitate migration of Customer's processing account to such Payment Processor. To the extent necessary to effect that migration, Customer appoints Vantaca as its agent and attorney in fact for the limited purpose of executing agreement(s) related to such migration on Customer's behalf. Furthermore, to the extent permitted by applicable law and payment network rules, Vantaca will, upon request, provide commercially reasonable support to assist Customer with the migration of recurring payment credentials and tokens to an authorized recipient. Customer agrees to pay Vantaca any reasonable expenses actually incurred with such assistance and migration along with Vantaca's then-current standard rates for such assistance and migration (which Vantaca will provide to Customer in advance upon request).