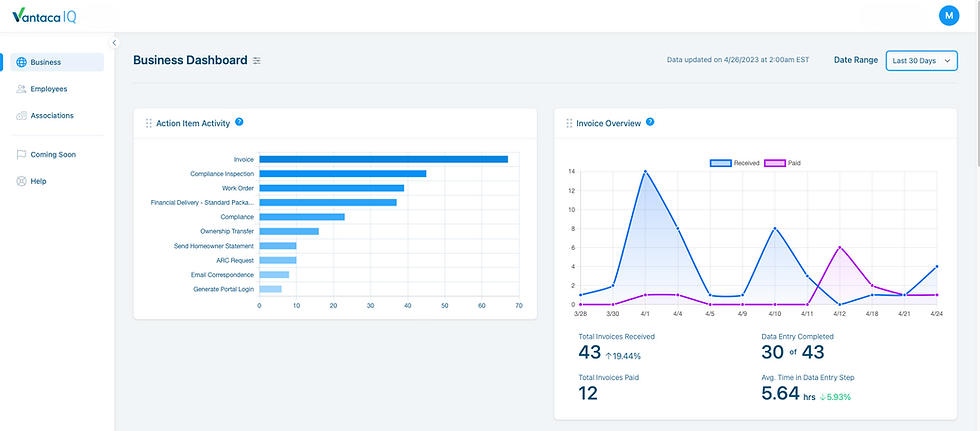 In the dynamic world of association management, the ability to make strategic, data-driven decisions quickly is paramount. However, the challenge facing many management companies today is the lack of visibility into what's happening in their business. This lack of visibility can negatively impact customer satisfaction, employee retention, and even profitability and growth opportunities. Until today, there haven't been sufficient solutions that deliver the business intelligence that association management companies need. With business intelligence, decision-making becomes proactive rather than reactive, allowing companies to identify trends, anticipate challenges, and capitalize on new opportunities.
Today, I am thrilled to announce the launch of Vantaca IQ, the only integrated business intelligence solution built exclusively for community association management. We built Vantaca IQ to provide management companies with real-time visibility into your business. The performance tools inside Vantaca IQ deliver real-time data that you can use to identify trends, optimize staffing allocations, make improvements, and drive better performance across your entire organization.
At the core of Vantaca IQ are three key data views that provide real-time, digestible insights into business performance.
Business IQ
Business IQ provides executive-level leaders with real-time data from all associations you manage. This includes insights into completed action items by association, invoice status, bank balance amounts, financial delivery, and service requests.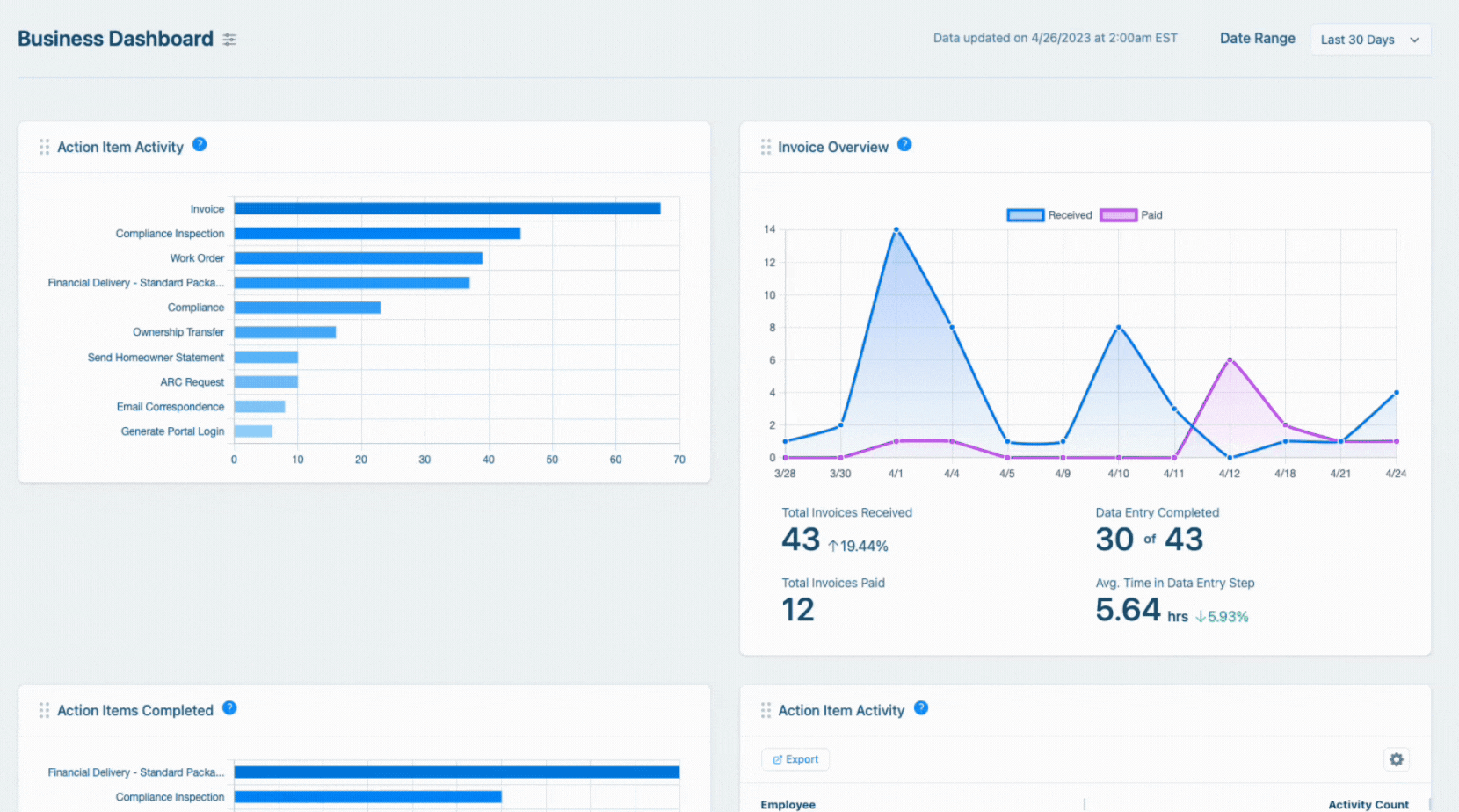 Association IQ
Association IQ empowers managers to monitor association output metrics and be aware of specific situations for an individual association. From a listing of all associations you manage, you can select any association to view invoice status, action item activity, completed action items, financial delivery, and violations.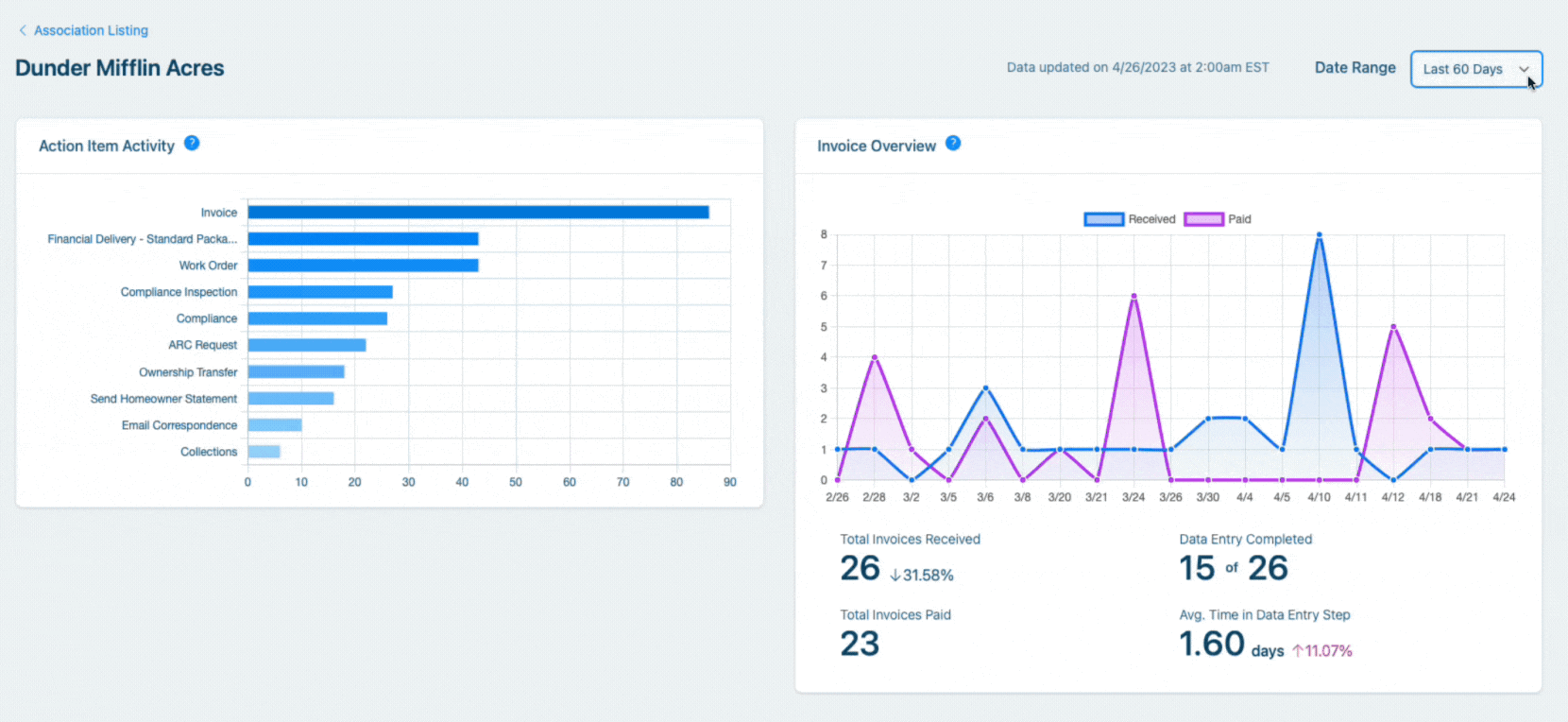 Employee IQ
Employee IQ monitors employee activity metrics. This dashboard shows people managers what activities your employees are working on and where additional training or resources may be needed. We created Employee IQ to help you align frontline employee actions with company goals.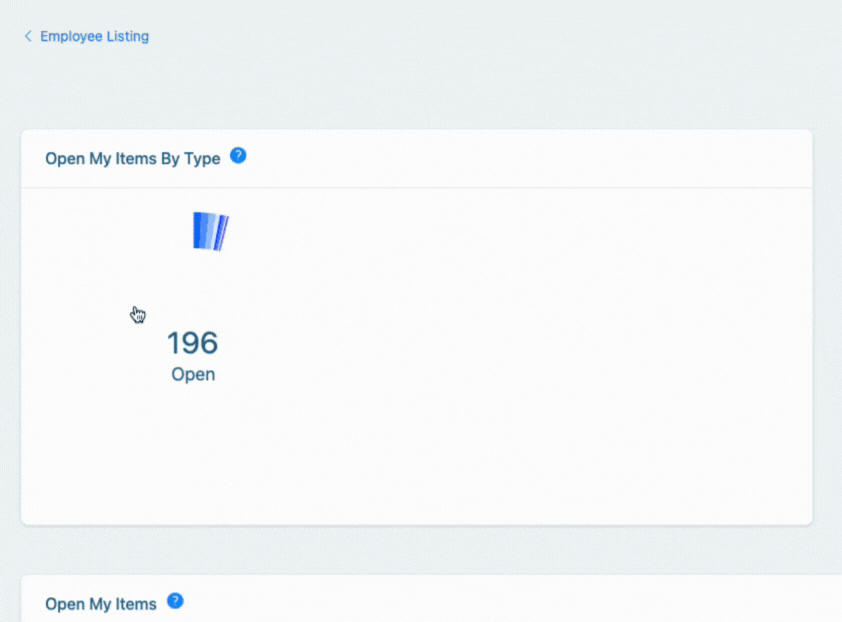 My Dashboards
Vantaca IQ also includes a personal view called 'My Dashboard'. My Dashboard is a customizable dashboard that allows users to choose the performance tools and specific views to track what they find most important.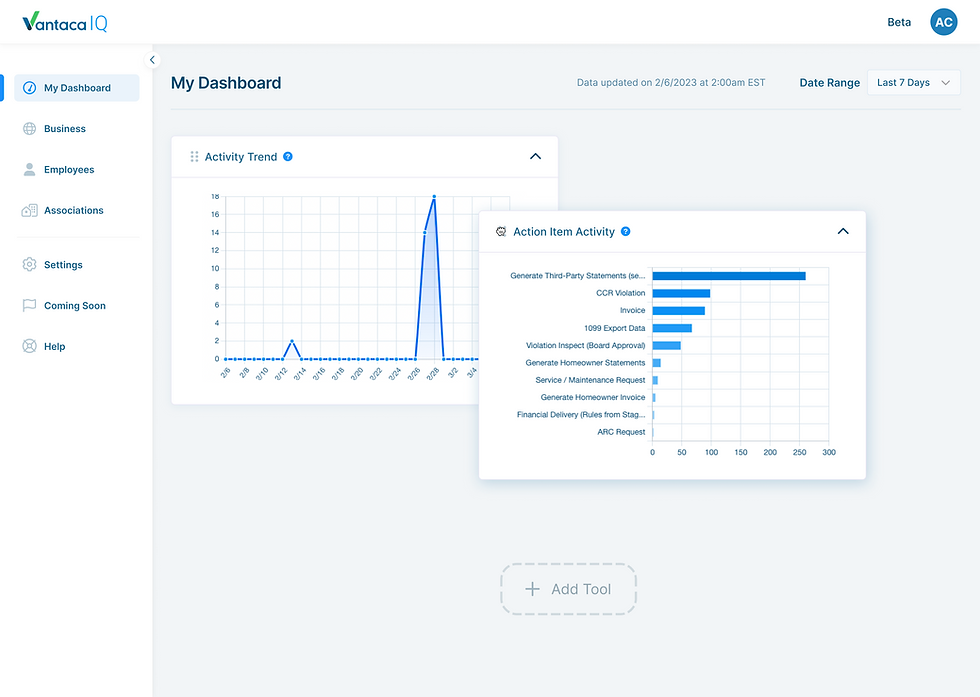 With these data views, management companies get access to a fuller picture of their business, making it easier to identify areas of improvement and areas of opportunity.
Additional Features of Vantaca IQ:
Comparison tools across associations and employees to understand productivity per employee or value delivered per association.

Printable dashboards that you can share with management and at board meetings.

Weekly report summaries sent straight to your email inbox

Security and access features that enable you to control which employees are able to access specific dashboards and views.
The Value of Vantaca IQ
The benefits of Vantaca IQ go beyond just new dashboards and new pieces of data. Below, I'll dive into what we believe is the true value of the tool, with the help from some of our customers' perspectives on how they've been utilizing it. Hopefully this shows you how your team could use Vantaca IQ to its full potential.
Real-Time, Actionable Data
With Vantaca IQ, you have access to real-time, easily accessible data generated by what your company does in Vantaca. You can seamlessly transition from reviewing business metrics to resolving issues in your Vantaca database. The best part is you don't need to spend time configuring the system, exporting data, or building dashboards. All of the dashboards and tools are pre-configured for you with the metrics and KPIs we've identified as being important to management companies.
"With Vantaca IQ, I can see the number of open action items, see the average age of action items and ask probing questions, like 'Why has this action item been open for so many days?'...Vantaca IQ is going to help us get our work done in a more efficient manner, understand our rub spots and solve the problems." - Peter Greeves, Owner at EJF Real Estate Services, Inc.
Increased Efficiency
Vantaca IQ can show you how long it takes your organization to close action items, invoices, and other service requests per association and per employee. With this insight, you can identify the bottlenecks and inefficiencies then work to optimize your processes and staffing accordingly.
"Vantaca is revolutionizing the community management industry with the release of Vantaca IQ. The ability to not only see the number of open (or closed) tickets each team member has in their queue, but drill down directly into a ticket with a single click saves us time and improves efficiencies. Goodbye Power BI! " - Jake Turner, VP Client Relations, SBB Community Management
More Transparency
Vantaca IQ delivers more transparency for a number of stakeholders, including company leadership, middle management, employees, and boards. You can share with your board members everything you do for them and prove the value of your services. Your employees can get a real-time view of their performance and can see how their activities contribute to company goals. Your people managers can see what your employees are doing, enabling them to have more emotionally intelligent conversations with employees to know what success looks like.
"Before Vantaca IQ, we could send a maintenance request to a vendor and only knew it was closed when we got the invoice. It could be 3 weeks, or it could be 8 weeks...Now, we're able to look at a maintenance request - if one is opened on a Monday and it's not closed by Thursday, we have a customer service person calling the maintenance company and figuring out why it's not closed." - David Reese, Principal at Silvercreek Association Management
Better Performance
Vantaca IQ enables you to track productivity across your employees, associations, and your entire business. You can identify trends and make informed decisions to drive performance, whether that means streamlining processes, optimizing staffing, focusing on customer service, or having more meaningful conversations with employees to deliver value to the association. It can even help employees become more productive, which leads to happiness; happy workers are 13% more productive according to research from the University of Oxford's SaïdBusiness School.
"We use Vantaca IQ for portfolio sizing and demand by customer. If an association makes up only 5% of a manager's total doors but is taking up 25% of their time - we can clearly identify that and quantify that financially as we renew contracts with customers." - Michael Johnson, CEO at HOAliving
We are so excited to announce Vantaca IQ and empower management companies to make data-driven decisions that drive performance. As association management companies continue to face the challenges of a changing market, Vantaca IQ provides a competitive advantage. With Vantaca IQ, community management companies can accelerate their growth, achieve their strategic goals, and stay ahead of the competition.