Vantaca, the HOA and broader community association industry's leader in community management performance software, announced the appointment of Mike Farley as Chief Sales Officer to the executive leadership team. The addition of Farley to Vantaca builds upon the recently expanded executive team, following on the partnership and investment from JMI Equity in 2022.

Additionally, Vantaca founding team member and industry veteran Greg Rohde continues in his role as Chief Growth Officer with a focus on growing established market relationships and building new strategic industry partnerships and alliances.
A proven sales executive with more than 20 years of experience in helping early-stage SaaS companies scale, Mike Farley joins Vantaca to lead the sales organization through the company's next phase of growth and will report directly to Ben Currin, Chief Executive Officer. Farley is based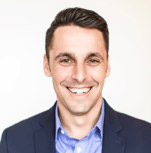 in Maryland and brings a wealth of experience in building high performing sales teams. Prior to joining Vantaca, Farley was Chief Revenue Officer at ResMan, where he helped the company accelerate revenue growth and launch multiple new products. Farley is a graduate of the University of Maryland, where he earned both his undergraduate degree and MBA.
"I'm thrilled to be joining the Vantaca team and to help build on the strong foundation that's already in place," said Farley. "I was drawn to Vantaca by the people and culture, and the incredible product. I see a massive opportunity for growth and can't wait to help the company realize it's potential."
With the addition of nearly 60 new employees over the last 12 months to bolster growth, customer experience and in particular, product innovation along with building a seasoned leadership team, Vantaca is well positioned to help lead the technological modernization of an increasingly strong and expanding HOA and community association ecosystem.
"I am incredibly pleased to welcome Mike to Vantaca to complete our executive team. With the combination of Mike's go-to-market team building experience and Greg's deep domain expertise and focus on expanding our strategic partnerships and alliances, I have never been more optimistic about Vantaca's future." said Ben Currin, CEO "The growth in community associations across the country along with the need for contemporary software to help our industry work smarter, better and accelerate performance represents an unprecedented opportunity."
Read the full press release here: https://www.prnewswire.com/news-releases/vantaca-completes-leadership-team-to-further-accelerate-growth-301763931.html?tc=eml_cleartime